Axelby Software
We specialize in your business. We learn as much as we can about the problem that our software is solving, then we tailor the code to be the perfect solution.
Services
Dashboards and ETL Data Pipelines
If your business isn't collecting data, it's going to fall behind. But collecting data is the easy part. We help you combine your sales data, analytics, marketing, CRM, and other types of data into one place. Then we clean the data, transforming it so you can throw it onto a dashboard or use it for machine learning. The result provides you with the knowledge you need to make better business decisions.
Bespoke Business Applications
Every business has its own processes. We create software that's tailored to yours, enhancing your workflow.
We review your business's processes together and figure out what can be automated and what can be simplified with software.
We'll create a plan and a schedule for development, deployment, and onboarding.
While we're creating the software, we'll give weekly demonstrations of our progress so you know exactly what's going on.
As the software is finished, we'll train and onboard your staff.
Greenfield Web / Mobile Apps
Creating an application from scratch involves a different process than enhancing an existing one. It's important to pick technologies that are suitable for the task at hand. For most custom software, it's better to go with proven and reliable options than new and flashy. Axelby has experience with a large variety of modern software technologies and will help you choose one that will maximize effectiveness and minimize speed.
Maintenance and Automated Testing
Increase your software's reliability by outsourcing maintenance to us. We can either ensure your software is running smoothly and efficiently or increase reliability and accuracy by creating a suite of automated tests. The automated tests ensure that existing functionality remains operational as new features are added.
Technology
Modern websites can be made with all sorts of fantastic technologies.
At Axelby, we love React. It's a great way to make powerful, modern websites quickly.
Some internal processes work best with mobile apps. These days, Flutter is a great way to make powerful mobile apps for Android and iPhones at the same time.
The server piece includes an API, a database, and usually a host of integrations to other services such as Salesforce or Mailchimp.
We've worked with many languages and frameworks on backend software. For new projects, we usually choose Python or Typescript these days, but we have experience with C#, Java, Go, and even Rust.
Case Studies
Case Study: Clearbuild
November 2019 - June 2020
Clearbuild is a SaaS application that lets construction company owners better understand their cash flow. Construction accounting has retainage and progress billing which are standard in the industry but make it hard to know if the business will need a cash infusion to complete a project.
Axelby staff picked up active knowledge of construction accounting while on a business consulting gig attempting to turnaround to a local concrete reinforcement company. We combined this with our mastery of Typescript and React, along with a passing knowledge of Rust, to create a website with the great design below.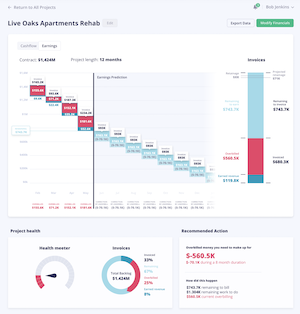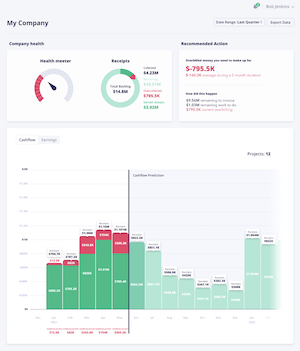 About Us
Dan Goldstein is an expert software developer with 20 years of professional experience using a large variety of languages and frameworks. He's spent time outside the tech industry as both an executive and business consultant. His specialty is understanding how businesss work and optimizing software to perfectly fit the company's goals.